200 hrs/4 weeks
Vinyasa & Restorative
Yoga Alliance Certified
Next Dates:
Oct. 05th – Nov. 2nd 2020
Feb 22nd to March 20th 2021
June 6th to July 3rd 2021
Oct 3rd to 30th 2021
Price: 2700 USD (including 4 weeks of training, shared housing and meals (3 vegetarian meals per day, 6 days per week); limited private rooms available for additional cost).
This training takes place in Cusco, Peru: Epicenter for the Awakening of Consciousness!
Highlights of the training include:
Learn to teach both Vinyasa and Restorative styles
The Art of Adjustments
Energy Anatomy, Chakras, Nadis, Aura, Bhandas and more
Ayurveda, Yoga Nutrition/Diet and Self-Care
Intentional Excursions to Sacred Sites
Q'ero Shaman Andean Offering Ceremony
Yoga Alliance 200 hour Certification
You will learn to teach Vinyasa and Restorative styles, in accordance with Yoga Alliance Standards, with the theme of Joyful Awakening through the practice of yoga and through teaching yoga. Healing House's mission of the training is guiding people into their centered hearts through intentional practices, encouraging them to listen to their inner wisdom and trust that it not only guides each of us but also allows us to live our bliss as our greatest service to the whole. We also emphasize yoga as lifestyle, with this training as a commitment to your spiritual path.
All in our stunning retreat center—built exactly for this and purposefully located among the sacred mountains and energy power centers of Cusco, Peru.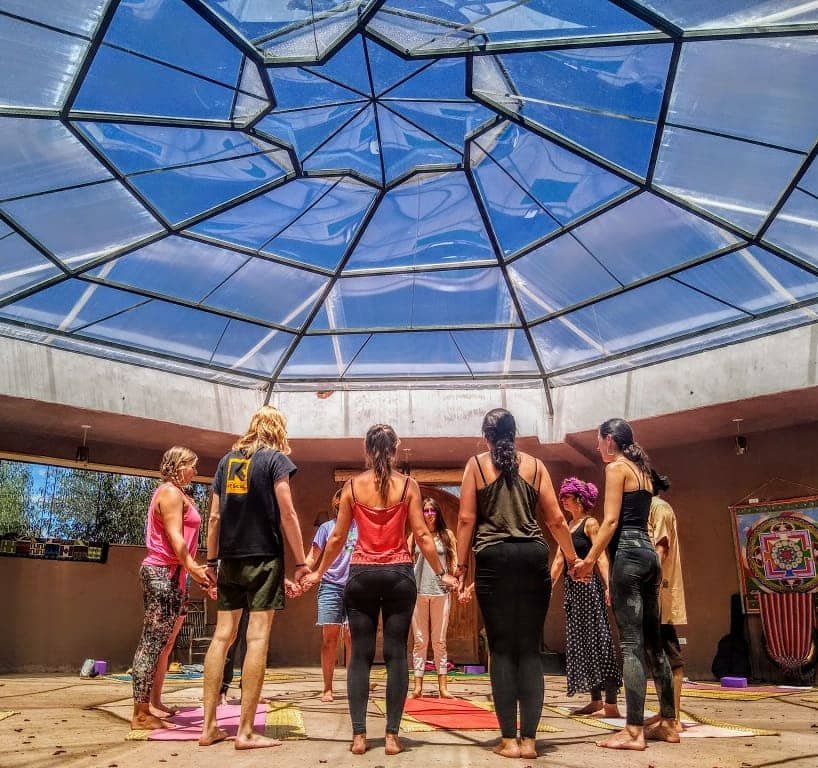 Focuses of the training:
Asana techniques and workshops on alignment

Physical anatomy and physiology

Energy anatomy: chakras, nadis, aura, bandhas, and more

Pranayama, mudra, meditation and mantra

The art of adjustments

History and philosophy of yoga

Sacred texts: The Vedas, The Yoga Sutras, and Bhagavad Gita

Eight limbs of Ashtanga

Dharma and Karma

Introduction to Sanskrit

Ethics for yoga teachers

Yogic lifestyle

Ayurveda, yoga nutrition / diet, and self-care

Learning how to build and teach Vinyasa and Restorative classes

Class intention, theme, and sequencing

Class observation and teaching practice

Finding your personal teaching style

Empowering yourself as a teacher

Teaching to beginners, mixed level, and advanced students

Teaching to special audiences

Getting started in the business of yoga
During this retreat, you will be staying at Pachānanda – Healing House´s Retreat Center in Cusco, just above the historical center and located in beautiful nature, next to ancient inca ruins. Accomodation is in shared rooms for 3-4 persons. Private Single or Double Rooms are available for an additional price on request. Please get in touch with us about that.
Please book your flight to arrive at Alejandro Velasco Astete International Airport (CUZ).
We can arrange a pick up from the airport for you with our trusted driver for an additional cost of 50 Soles/17 USD.
Your stay in Cusco before or after the Yoga Teacher Training: you are welcome to stay in one of our rooms (private or shared) in our mainhouse in the historical center of Cusco (San Blas). To reserve your room please contact us via email ( info@pachanandacusco.com) or via whatsapp/call at our reception (+51 943729 368).
How to reserve your spot for the Yoga Teacher Training: Get in touch with us via info@pachanandacusco.com and pay a non-refundable deposit of 600USD via paypal (healinghousecusco2@gmail.com; please cover the fee.
ADDRESS:
Qanchipata 555 -San Blas, Cusco, Peru
OPENING HOURS:
Monday to Saturday 8am – 8pm
Sunday 9 am – 5pm
CONTACT MAILS:
SOCIAL MEDIA: